Do you want to feature on that sweet spot on Google?
Do you desire for your website to appear in position zero?
Do you want more traffic for your website?
If the answer is yes then I am here to help you with featured snippets.
The featured snippets feature was first introduced in 2014 by Google and still, there are people who wonder what I mean when I say the word 'Featured Snippet' or 'Position Zero'.
So first let me explain what it is.
What are Featured Snippets?
Featured snippets are special boxes of quick answers to your search queries where you can read the brief summary from a website that ranks on the first page of Google. You can also find website page details from where the excerpt is pulled along with the last crawled date.
What is a Featured Snippet SEO?
Featured snippet SEO is a process where an SEO expert optimizes a particular page for a particular keyword in order to appear in Google Special boxes.
Featured snippet is a practice to provide the best information for the given keyword in a web page for your visitors to search engines.
Once you have implemented the recommended changes, then you have to request a Google index. And if everything is great the featured snippet content will be automatically pulled from the respective page for the respective keyword.
I do not guarantee you the featured snippet but I can do my best to help you be there by putting quality SEO effort on your website pages.
Need Help: Hire Suresh to get help with featured snippets SEO today!
Now let's understand the types of featured snippets.
What Are the Types of Featured Snippets?
The most common types of featured snippets are four: paragraph snippets, ordered & unordered lists, video snippets and table snippets.
4 Types of Featured Snippets 2021
Paragraph Snippet
List Snippet
Table Snippet
Video Snippet
Let's understand each type in detail.
1. Paragraph Snippet (Aka Text Definition Snippet)
A paragraph featured snippet is s summary of text that provides definition or quick answer to your searched query. This is normally a paragraph pulled from the webpage's content.
Here is an example from Digital People: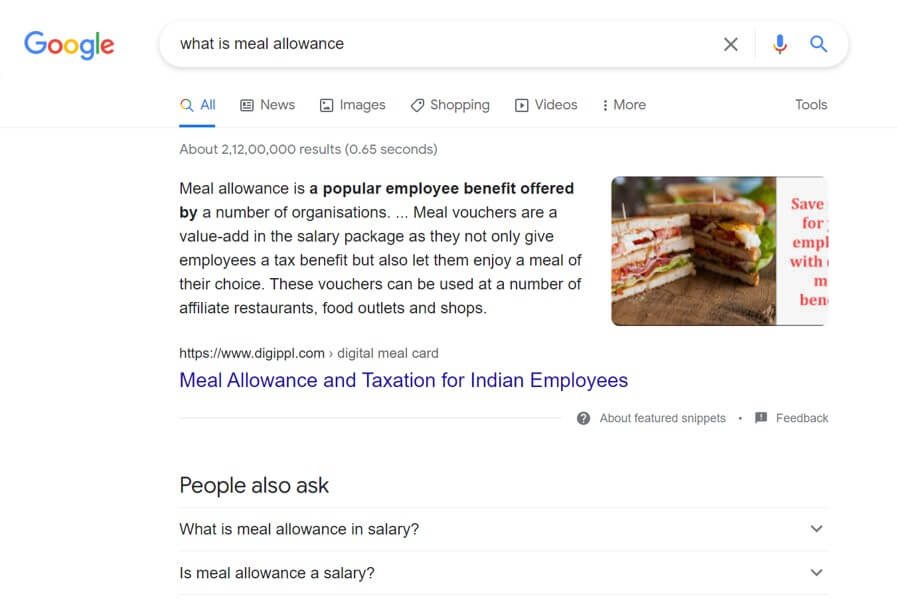 I have optimized this page which is ranking on page 1 and also present in featured snippets for my client website Digital People.
2. List Snippet (Ordered List & Unordered List)
List Snippet is a type of snippet that includes step by step pointers in a search. It can be in ordered list or in unordered list.
3. Table Snippets
4. Video Snippets